Join top firms in Wuxi
There is a special area in WND where cherry trees blossom, called Friendship Grove. For every overseas-funded enterprise that joins WND, a sapling is planted and at present most of them are cherry trees planted by Japanese companies. This signals a promising future of cooperation between WND and Japanese enterprises.
Sharp

Wuxi Sharp Electronic Components Co., Ltd

Year of entry: 1994

Primary business: liquid crystal display devices and other related electronic products

Sony

● Sony Electronics (Wuxi) Co., Ltd

Year of entry: 2000

Primary business: polymer lithium-ion batteries (PLB)




● Sony Digital Products (Wuxi) Co., Ltd
Year of entry: 2005
Primary business: digital cameras

Konica Minolta

Konica Minolta Business Technologies (Wuxi) Co., Ltd.

Year of entry: 2004

Primary business: information devices like digital composite machines, printers, production level high-speed printer systems

Sumika

Sumika Electronic Materials (Wuxi) Co., Ltd

Year of entry: 2004

Primary business: semiconductors, special component materials, high-tech chemicals for electronic use, and engineering plastics, etc.

Maruta

Wuxi Murata Electronics Co., Ltd

Year of entry: 1995

Primary business: electronic components like multilayer ceramic capacitors (MLCC) mainly made from ceramic, ceramic filters, thermistors, and antennae

Fujitsu

● Fujitsu Ten Electronics (Wuxi) Co., Ltd

Year of entry: 2004

Primary business: vehicle-loaded devices like satellite navigation equipment, digital speakers, and electronic devices




● Fujitsu General Central Air Conditioner (Wuxi) Co., Ltd
Year of entry: 2006
Primary business: high-end varied frequency multi-combination central air-conditioning

ALPS

Wuxi Alps Electronics Co., Ltd

Year of entry: 1995

Primary business: electronic components like switches, connectors, mobile phone touch membrane switches, and voice coil motors (VCM), etc.

Cataler

Cataler (Wuxi) Automotive Environment Technology Co., Ltd

Year of entry: 2002

Primary business: catalyzers for automobiles and motorcycles

Panasonic

● Panasonic Energy (Wuxi) Co., Ltd

Year of entry: 2001

Primary business: Ni-MH batteries and lithium-ion batteries




● Panasonic Home Appliances Refrigerator (Wuxi) Co., Ltd
Year of entry: 1996
Primary business: refrigerators

Nikon

Nikon Imaging (China) Co., Ltd

Year of entry: 2002

Primary business: digital cameras, components and lenses for digital cameras, subminiature cameras with switchable lenses and some compact digital cameras

Calsonic Kansei

Calsonic Kansei Components (Wuxi) Co., Ltd

Year of entry: 2004

Primary business: automobile radiators, condensers, evaporators, digital instruments, and electronic products

Bridgestone

Bridgestone (Wuxi) Tire Co., Ltd

Year of entry: 2003

Primary business: radial tires for passenger vehicles

Nichicon

Nichicon Electronics (Wuxi) Co., Ltd

Year of entry: 2001

Primary business: new electronic components and power electronic components

Yanmar

Yanmar Agricultural Equipment (China) Co., Ltd

Year of entry: 1997

Primary business: Yanmar combine harvesters, trans-planters, and planters

Sumitomo

Sumitomo Electric Wintec (Wuxi) Co., Ltd

Year of entry: 1994

Primary business: high-quality enamel wire
WND has now become the development zone in which Japanese investment is concentrated the most in China. It is now the first choice for Japanese enterprises to invest.
Established in 1992

Covering 220 square kilometers, with a resident population of 600,000

GDP in 2015 was $20 billion, and GDP per person was $37,000

More than 400 Japan-invested enterprises with a total investment of $17.8 billion

Japan-invested enterprises and investment volume account for 34% and 35%, respectively. Japanese imports and exports account for 45% of Wuxi's total.

27 Japan-invested enterprises on the Fortune Global 500 have invested in 55 projects in WND
Ideal location for Japanese investment
As a pilot city suitable for business, innovation and living, WND is located in the Yangtze River Delta, the richest and most inhabited area of China with favorable environemnt, flat terrain and stable geologic structure. Located between three core cities, Shanghai, Nanjing and Hangzhou, at a distance of 200 km, WND has relationships with a further six large cities, with populations of more than 5 million respectively, bringing it vast consumption potentiality and market.
350,000 sq km with a population of 300 million
Flat terrain and stable geologic structure
Yangzte River Delta: 25% of China's GDP
More than double national GDP per capita
Within 0.5 hours of WND
Within 1.5 hours of WND
Within 2 hours of WND
Cluster of emerging industries taking shape
WND is the birthplace of ancient Wu culture and the origin of industry and commerce in China. Featruing solid industrial foundations and craftsmanship spirit, it is considered the base of advanced manufacturing in Wuxi, the province of Jiangsu and even the whole east coast of China.
Software and information service industry

More than 1,000 companies, 26 listed on the software industry's Global Top 100 and China Top 50.

New energy and new materials industry

WND's solar capacity accounts for 1/4 of the whole national volume and 1/8 of the global volume.

Microelectronic industry

With a compelete industry chain of IC design, wafer fabrication and package testing.

Compelete-machine manufacturing

WND has introduced more than 70 complete-machine manufacturers with sales above $4.3 billion.

Auto parts industry

There are more than 200 enterprises producing auto parts and 1/5 of them have an output above $15 million.

Life science and technology industry

WND is a base for pharmaceutical enterprises, such as AstraZeneca, Bristol-Meyers Squibb and GE Healthcare.
With a solid foundation in production capacity, Wuxi is the southern base of China's microelectronic industry, accounting for 1/5 of the country's production. In 2015, WND reached an output value of $8.4 billion for its microelectronic industry. Meanwhile, Japan has always occupied a world-leading microelectronic industry and possesses overwhelming superiority in the design and R&D sector. Therefore, in-depth cooperation in microelectronics between Japan and WND would be beneficial in promoting industrial development for both sides.
Design
R&D
Manufacture
Sale
Great transport for commerce, travel, logistics
(1) Crucial transportation hub of Eastern China: all modes of transport are available
Within 50 km of Jiangyin Port and Zhangjiagang Port

210 km - Shanghai Yangshan Port, 150 km - Shanghai Waigaoqiao

High-speed railway and special rail freight line

Only 30 minutes from Shanghai and 4.5 hours to Beijing by high-speed rail

Close to the G2 Beijing-Shanghai Expressway and G42 Shanghai-Chengdu Expressway

312 State Road, 104 State Road available

With Metro line 1 and 3* passing through (*under construction)

Half-hour journey to transport hubs including high-speed rail and airport

Only development zone in China with int'l airport

More than 40 domestic and int'l flights opened, with over 100 daily flights
(2) Direct round-trip flights to Japan
In 2009 the Wuxi Sunan Shuofang International Airport partnered with its first International airline providing direct flights from Wuxi to Osaka, Japan. Every week there are five round-trip flights(Monday, Tuesday, Wednesday, Thursday and Saturday). In May, 2016, the airport opened three weekly flights (Tuesday, Thursday and Saturday)to Tokyo.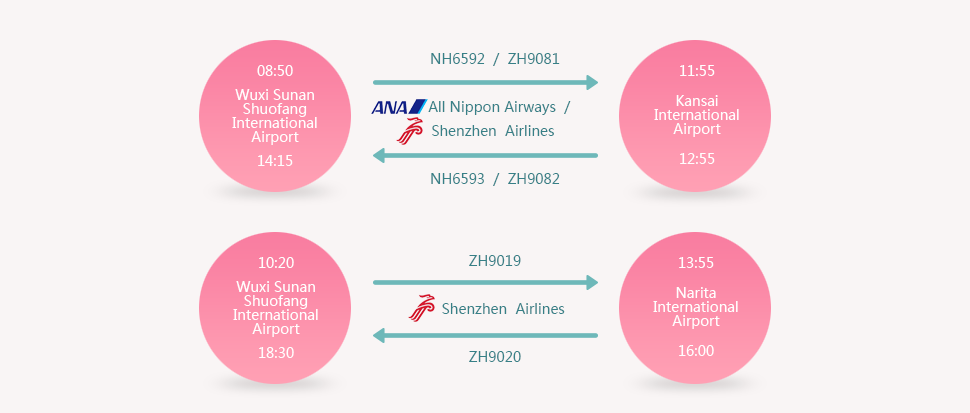 Human resources at different levels
WND has a pyramid-shaped talent pool, which contains human resources with various skills at different levels. It can meet the needs of enterprises for human resources by means of talent projects, academic transmission and vocational training.
Advanced resources for vocational training providing high-tech talents

48 vocational schools

More than 400,000 technicians among which more than 60% are senior mechanicians

Twice the percentage of senior professionals of the national average level

First-rate resources of higher education to accelerate IA innovation

4 world-class universities within 150 kilometers. (Top 200 in QS World University Ranking)

1/3 of Chinese universities can be reached within 2-hour drive

The first international center of industry-academy-research collaboration established by University of Tokyo has settled in WND

Cluster of leading personnel promoting the introduction and incubation of projects

First national high-tech zone to implement overseas talents introduction program

Providing supportive policies for innovation and entrepreneurship

Having more than 10 industry-academy-research collaboration bases with technology platforms for industry
High-quality and efficient government service
First-class government service

With the establishment of the one-stop government service center, enterprises are able to handle all the procedures relevant to manufacturing and operations, substantially cutting down on administrative approval procedures.

Support for big projects

In the next five years, WND will provide a development fund of $1.2 billion for modern industry. This fund will be used to support investment projects and enterprise technological innovation.

Customized settlement program

The 10 billion-level state-owned capital platform provides supply information for factories and diversified methods of settlement for enterprises, which helps them to reduce costs and risk.
Superb commercial facilities for investment
With the manufacturing industry moving towards high-end production, the commercial cooperation between Japan and WND will expand. New formats of emerging industries are appearing, such as finance, real estate, education and the high-end service industry. All these help make an environment more livable, comfortable and convenient, bringing WND new advantages for building a highland for Japanese investment.
International high-level education

Wuxi has many high-quality international schools, such as WND International School, Wuxi Tutorial School for Japanese and North Cross International School (under construction). All these schools can satisfy the educational needs for students with different nationalities.

Top-class shopping experience

Wuxi has many urban commercial complexes, such as the Japan-invested Maruetsu supermarket, Center 66 Plaza, Grand Orient Department Store, Suning Plaza and many other outlets. The number of shopping complexes in Wuxi is top-ranked nationwide.

Comfortable living environment

Japan's Sekisui Chemical Co and Daiwa House Group, which is listed on the real-estate market's Global Top 500, have invested in many Japanese-style high-end residences in WND, which provide a comfortable living environment for Japanese business people.

Banks promote WND investment

Mizuho Bank Wuxi Branch established in WND in 2006 has been attracting many Japan-investment enterprises to Wuxi. In the same year, the Bank of Tokyo-Mitsubishi UFJ also established its branch in WND.